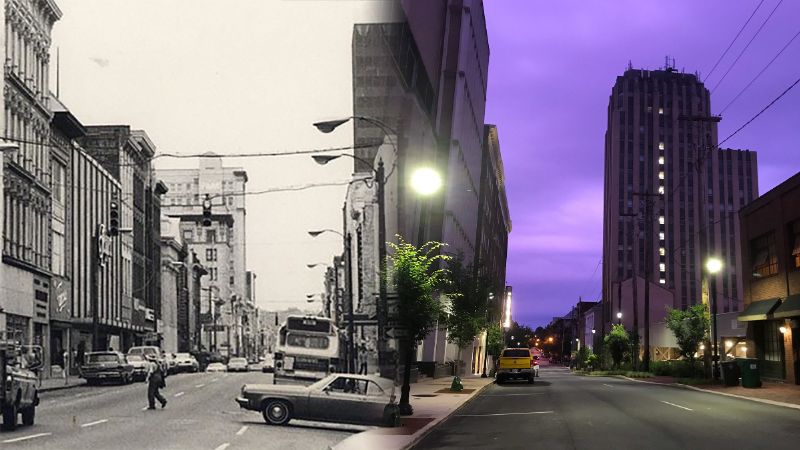 The Project
In Fall 2019, the City of Lynchburg and Appalachian Power will break ground on the Main Street Renewal Project. This joint $17M will replace aging waterlines, update streetscape features on Main Street and Tenth Street, and modernize the underground electrical system to improve reliability and provide for future development.
Appalachian Power's underground equipment on Main Street was installed in the 1930's. The company will replace the aging system with new wire, transformers, concrete vaults, manholes and grates. This capital improvement project will not only improve the quality and reliability of the electric service, but also will allow for faster restoration times when power outages do occur.
The Main Street Renewal Project is the second phase of the City of Lynchburg's multi-phased Downtown Renewal Program which will replace and update water, sewer, and stormwater infrastructure. After both organizations complete their underground infrastructure upgrades, the City will restore each block with updated streetscape features that encourage an enhanced pedestrian and vehicular experience. Features will include new brick sidewalks, historically-designed streetlights, new trees and plantings, and redesigned parking and loading zone areas.
In 2016, the City of Lynchburg began its Downtown Renewal Program, a complete program to upgrade both Lynchburg's aging utility water infrastructure and its streetscape features. With waterlines dating to the mid-1800s, these upgrades are necessary for continued and sustained development in downtown Lynchburg.
Fifty Blocks
Fifty city blocks were identified for improvement, encompassing the downtown core from Court Street to Commerce Street and all of the numbered side streets from Fifth Street to the Lynchburg Expressway. In addition to replacing waterlines, water valves, stormwater structures, and electrical conduits and lights, the Downtown Renewal Program will upgrade sidewalks, lighting landscape features, trash cans, benches, and crosswalks throughout downtown.
Phase I of this project was completed in September 2017. Over 3,500 feet of new water line, 37 new valves, 22 storm structures, over 4,000 feet of electrical conduit to serve new street lights, and 3,000 feet of new information technology conduit were installed in this 16-month project. Overall, the project was completed on time and under the projected $8.5M budget.