Growth requires growing pains. The City of Lynchburg and Appalachian Power are investing $17M into downtown Lynchburg to upgrade its underground utility infrastructure and above-ground pedestrian and vehicular experience. From increased electrical capacity to brand new waterlines to historic brick sidewalks and street art, we are committed to making Lynchburg an even better place to live, work, and play.
Sign up for email updates and receive the latest news about the Main Street Renewal Project. We respect your privacy and you can cancel anytime.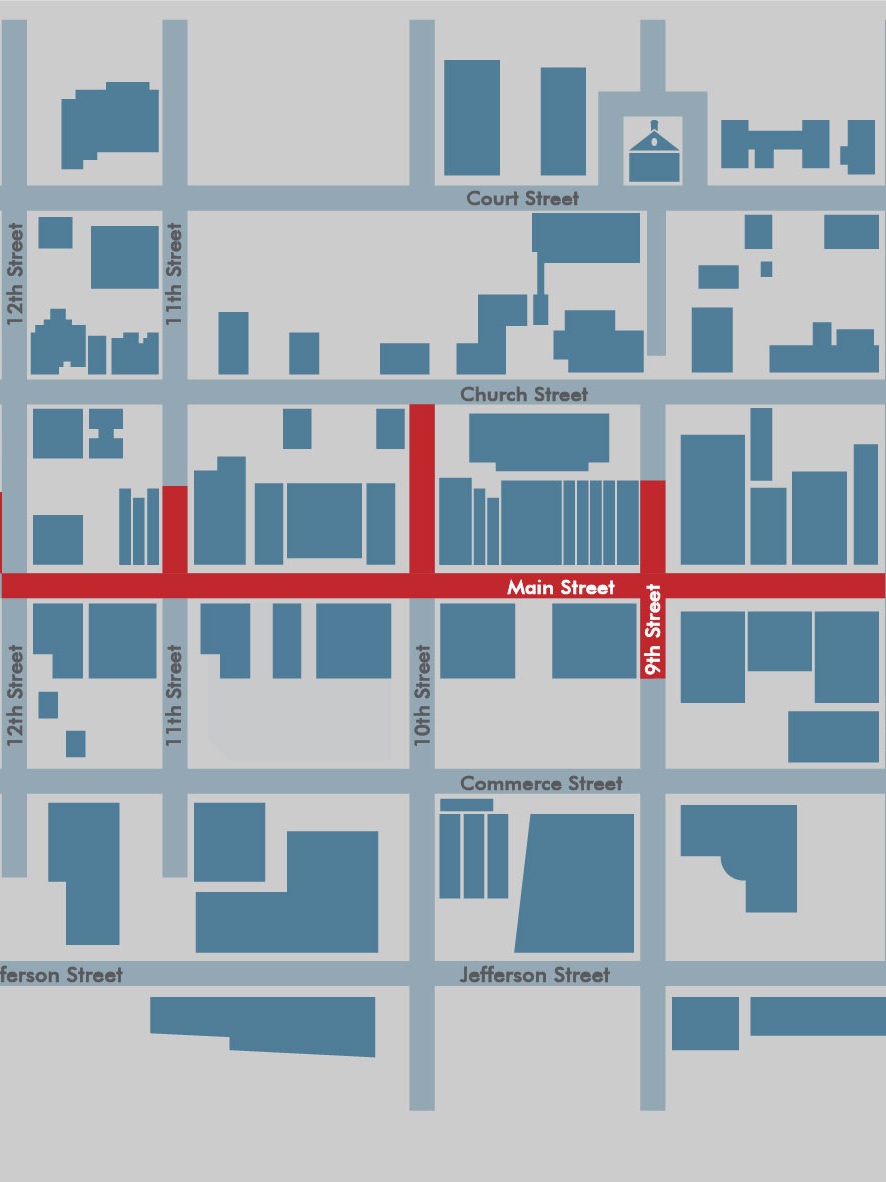 Construction will impact Main Street between 8th and 12th Streets, as well as certain side streets between Church and Commerce Streets. Some utility work will occur on all of these streets, but streetscape improvements will only occur on Main Street and on 10th Street between Church and Main Streets.
At least once a week, we will update the RenewLYH blog with project updates. These updates may include news releases, meeting announcements, detour maps, and the current schedule of work. Be sure to visit often for the latest news!
2,000'
Waterline
The waterlines in downtown Lynchburg date back to the mid-1800s. By replacing these historic waterlines with brand new, larger ones, we will increase capacity for future customers and reduce costly and impactful breaks.
8
Underground Electrical Vaults
Appalachian Power's underground electrical infrastructure dates to the 1930s. These new vaults will provide more reliable power to downtown customers and increase capacity for growth as more buildings are renovated for businesses and residents.
56,000
New and Historic Bricks
Over the course of our streetscape improvements, we will lay 56,000 historic and brand new bricks in the sidewalk. As we move toward the future of Lynchburg, we want to honor our past, and these historic bricks from the late 1800s are a key part of retaining and remembering Lynchburg's historic beginnings.
Open for Business
We are committed to partnering with our downtown businesses to support them during this major construction project. During construction, we will always maintain pedestrian access to businesses and we will work with each business one-on-one to ensure that water and electrical service interruptions are scheduled during the best possible times. Additionally, we have developed several City and public-private partnership programs to promote the many ways that downtown Lynchburg is open for business.
Business Liaison
Heather Kennedy of Cella Molnar is your direct contact for all construction-related questions and issues. The City hired her to work with you, one-on-one, during the project. She will meet with you on a regular basis to ensure that your business needs and concerns are addressed in a timely manner. Her office is located near the construction zone at 209 Ninth Street, or you can reach her at 434-528-3041 or hkennedy@cella.cc.
Parking Voucher Program
The City is working to develop a parking voucher program that will offer an hour of free parking for downtown visitors who park in the Midtown Parking Deck (910 Main Street). More details about this program will be announced in Summer 2019.
Business Owner Workshops
Beginning in Summer 2019, the City has partnered with the Downtown Lynchburg Association to host a series of business owner workshops that will prepare business owners for the launch of major construction in Fall 2019. Topics will include xxxxxx.
Cooperative Advertising and Marketing
Our goal is to partner with businesses to ensure that construction impacts are minimal. The Downtown Lynchburg Association is offering several highly discounted cooperative advertising and marketing opportunities which will help businesses affordably increase customer awareness.